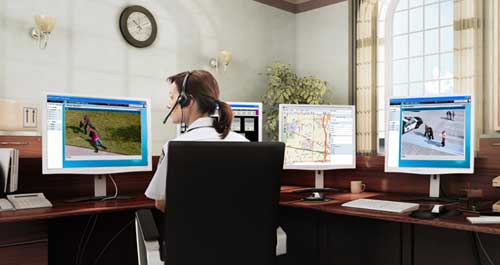 Motorola's video security solutions bring together a new wave of advanced technologies, transforming video security systems from the relative passivity of simple video surveillance to more active, more collaborative, more intelligent video security.
Motorola's end-to-end video security architecture is composed of networks, devices and applications to deliver enhanced video security operations serving public safety, public service and enterprises. Motorola's video security solutions translate information captured from video systems into real-time crime-fighting tools, delivering expanded and enhanced functionality for rich media collaboration.

Video Security Architecture
Motorola's video security architecture considers the end-to-end solution from the back office to the video edge.
Video Back Office: Integrates disparate systems and effectively gathers and rationalizes information from multiple sources. Manages content for easy access and cost-effective storage.

Video Transport: Optimally distributes and shares video content over wireline and wireless transport networks to and from the video back office.

Video Edge: Consists of the cameras, sensors and other sources of information as well as in-vehicle video platforms and mobile handheld devices for viewing video collaboration with personnel in the field.

Maximize Video Surveillance Performance and ROI.
With today's increased emphasis on public safety and asset protection, the world has begun looking at security more closely and critically. In the wake of an unpredictable series of natural and man-made disasters, security has become a major priority worldwide. Municipalities, government agencies, businesses, healthcare systems, educational institutions and many others are looking for reliable systems to help them better protect people and property. These systems must also comply with stringent new mandates requiring significant improvements in security systems, functionalities and results.
New Security Technology
Advanced new security technology is empowering these organizations to keep pace with the fast escalating demand for increased protection and safety. At the forefront of enhanced security technology solutions is real-time visual monitoring of people and places through powerful, versatile new video surveillance networks and technologies.
Seeing is Protecting
Organizations all over the world are realizing the effectiveness of protecting people, places and things with advanced video surveillance systems. Round-the-clock monitoring of vulnerable areas and locations provides for real-time situational awareness, and allows for fast and appropriate response in time to make a difference.
Reliable, Cost-Effective Video Surveillance from Motorola
Motorola IP-based video surveillance networks are purpose-built to deliver best-of-breed video surveillance infrastructure, technology and solutions. Leveraging more than 75 years of wireless technology expertise, innovation and leadership, Motorola video surveillance solutions are easy to deploy and increase the power, efficiency and cost effectiveness of sight-based security systems.
Build and Extend Networks Cost Effectively with IP-Based Solutions
A worldwide consensus on video surveillance technology is rapidly developing. More and more organizations view the integration of physical and information security functions as a critical component of the overall enterprise risk management strategy. As a result, security conscious organizations around the globe are choosing all-digital IP-based systems such as Wireless Broadband solutions from Motorola.
IP-Based Advantages
In comparison with analog or hybrid systems, IP-based solutions offer a number of important advantages, among them:
Faster Awareness and Response
Lower Cost
Leverage Existing Investments
Converged Networks
Remote Monitoring
Enhanced Data Security
Comprehensive Safety and Protection Inside and Outside
Now you can place a surveillance camera wherever you need it. Motorola's wireless infrastructure allows you to deploy and extend video surveillance capability in virtually any indoor or outdoor environment. Motorola Wireless Broadband Solutions deliver versatile, reliable 24/7 video surveillance in fixed, mobile and nomadic complementary IP-based technologies.
The Reliable Choice: Motorola's Purpose-Built Video Surveillance Solutions.
Motorola Wireless Broadband video surveillance solutions are helping to enhance safety in some of the world's most security conscious applications, and under some of the most difficult conditions in a wide variety of customer environments.