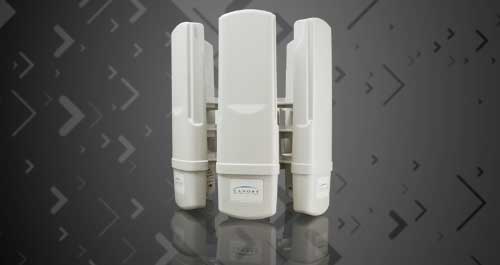 Reliable, Cost Effective Wireless Broadband Connectivity
Increase connectivity to clients and colleagues with Motorola's Point-to-Multipoint Wireless Broadband Network. This secure network makes maintenance of advanced networks inexpensive and seamless.
Motorola Wireless Broadband Point-to-Multipoint (PMP) solutions are streamlined, powerful and simple, with built-in installation and deployment assistance, making Motorola solutions faster and easier to implement.
Components include:
Access Point (CAP) Module. The CAP seamlessly interfaces with an existing Local Area Network (LAN) via standard Ethernet connection. Compact and flexible, AP modules are built to be mounted outdoors, eliminating the need for overhead and in-ground wire or microwave.
AP Cluster. The foundation of the Motorola access network system is the AP cluster, a powerful system that includes six APs plus a Cluster Management Module (CMM). The CMM provides power for the CAP modules and includes an Ethernet switch and a GPS receiver.
Subscriber Module (CSM). CSMs are compact and unobtrusive access receivers that are easy to install at a user's or customer's site. Subscriber Modules can be mounted outside, and need no additional software installation. Each CAP module can serve up to 200 CSMs.
Delivering Reliable, Cost-Effective High-Speed Connectivity to Multiple Locations
Wireless broadband is quickly becoming the world's preferred technology for enterprises, municipalities and service providers delivering advanced and in demand IP-based voice, video and data applications. Motorola Wireless Broadband Point-to-Multipoint solutions are leading the way with successful deployments all around the globe.
Motorola Wireless Broadband solutions deliver scalable, interference-resistant, high-speed connectivity to multiple residential, business, institutional and municipal locations. The platform combines exceptional reliability with robust performance, scalability, multiple layers of security, ease-of-use, accelerated deployment and remarkable affordability.
It also integrates seamlessly with existing network systems and management tools, making it easier and cost efficient to extend existing networks.
Maximizing the productivity of unlicensed wireless frequencies, Motorola Wireless Broadband Point-to-Multipoint solutions streamline the development, deployment, enhancement and extension of advanced IP-based wireless broadband networks. They excel at delivering ubiquitous high-speed connectivity and state-of-the-art services, and are currently helping drive successful business models as well as helping bridge the digital divide in more than 120 countries worldwide.
Solutions That Speed Deployment and ROI Without Accelerating Costs
Motorola Wireless Broadband Point-to-Multipoint solutions deliver the power, connectivity, high demand services and cost-effectiveness that are crucial to increased return on investment and the ultimate success of virtually every wireless broadband network.
The platform combines superior broadband access performance with the flexibility to facilitate a wide range of commercial and private applications. The technology is designed to speed deployment and time to market, while helping control equipment, management and installation costs.
Specific benefits include:
Configuration Flexibility
Spectrum Options
Fast Installation
Lower Costs
Downloads
Brochures